A. A. I. Flooring proudly carries Marble Systems.  Recently, Marble Systems released their new Marmara Collection, featuring eight variations.  Which room would you feature Marble System's Marmara Collection in?
When we first saw this new collection from Marble Systems, we loved the sleek contemporary feel.  From a classic black and white tile to the earthy Champagne Seashell Multi-Finish, this collection is versatile and refreshing.
Marble Systems:  The Marmara Collection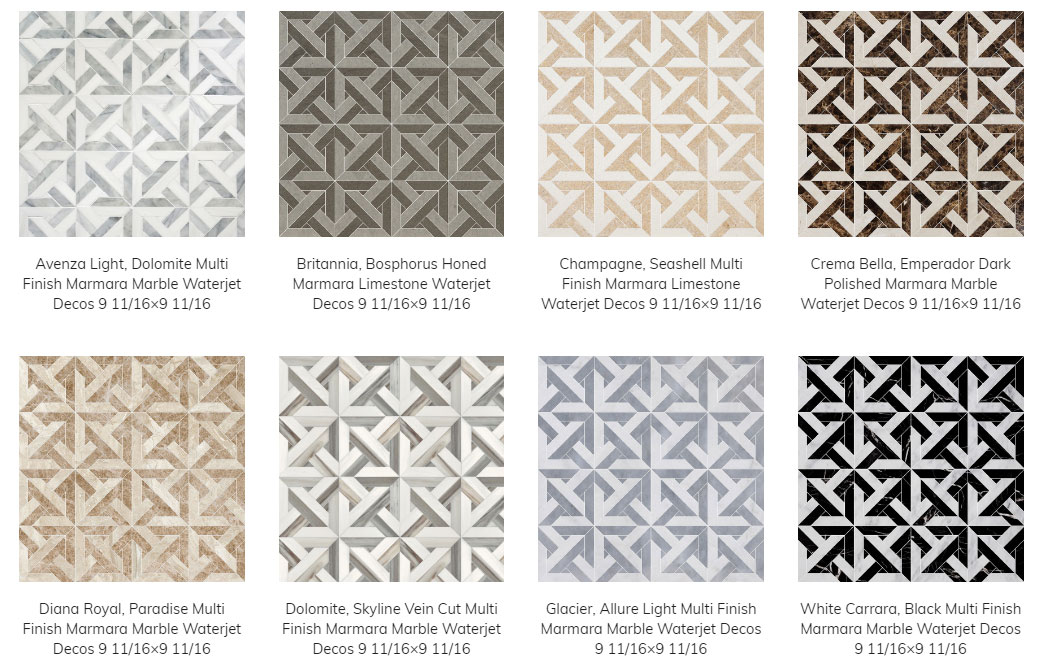 Kitchen and Bathroom Renovation
The Marmara collection features both tile in marble and limestone, which is ideal for your kitchen or bathroom renovation.  When shopping for the perfect tile for your home, ask your AAI Flooring consultant what they think would look best in your interior.  If you are renovating your kitchen or bathroom, consider bringing swatches with you to compare and contrast against tile samples.
Placement Inspiration
If you need a little more help envisioning how you would work the Marmara collection from Marble Systems into your interior, here are some of our ideas.
The Avenza Light Dolomite Multi Finish tile makes for a fabulous backsplash.  The tones in the tile work to compliment stainless steel appliances and accessories.
Update your mudroom or foyer with the Diana Royal Paradise Multi Finish tile for a neutral, transitional feel.  Neutral flooring is a fabulous option for entryways, as it ties in the elements of the outdoors with the elegance of your interior.  Neutrals are also wonderful for homeowners who like to switch up their decor, as they are easy to integrate into a new palette.
Make a statement with a beautiful marble inlay featuring the Dolomite Skyline Vein Cut Multi Finish tile.  We love the juxtaposition between the rich tones of the hardwood and the crisp geometry of the tile.